Is This A Scam? Cheap 1000$ Aliexpress Atc CNC Spindle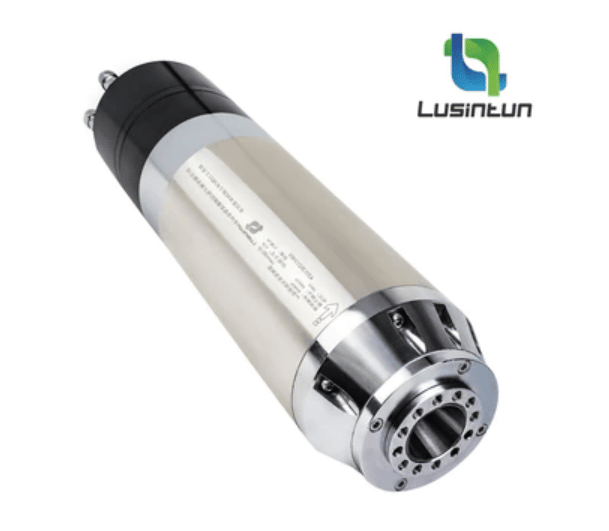 1000$ lusintun Aliexpress ATC CNC spindle , was it a scam, or not?
Read my findings here…
Also featured on Hackaday
Introduction – My cheap Lusintun ATC cnc spindle
Several months ago I was looking for a spindle for my up and coming CNC machine. I had been drooling at a cheap BT30 ATC cnc spindle for a while. And I decided that it was finally time to take the plunge. I found a few options on Aliexpress, but they were all quite expensive. So I kept looking and eventually found a cheap atc spindle that was in my price range. Initially I was planning using it on my DIY PrintNC metal cnc router build but later on I decided to proceed with my own design.
Lusintun BT30 3.5Kw 8 pole 18000RPM CNC spindle
It is quite nerve wracking buying a 1000$ atc cnc spindle which to you is unproven and especially on Aliexpress… But I took the gamble.
4 pole vs 8 pole motor?
Which one is the best to buy?
I made a graph of the torque vs RPM for the 4 pole and 8 pole equivalent. This is based of the information provided by Lusintun :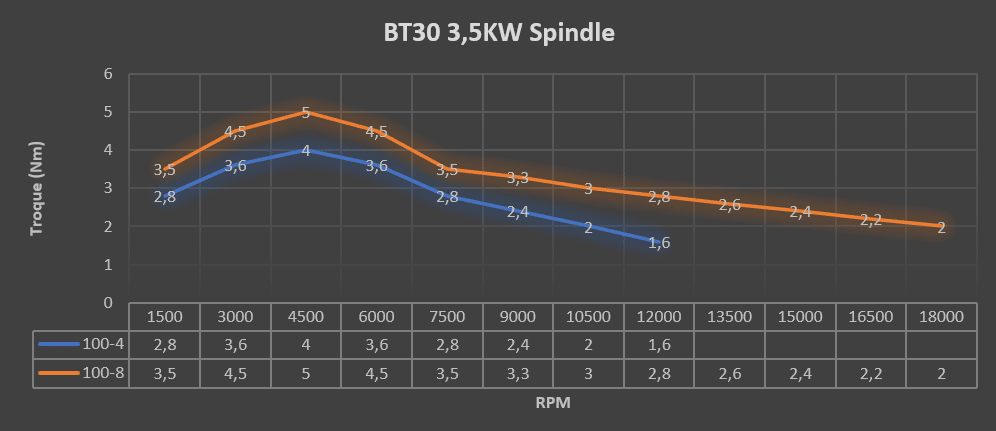 Based on my usage alu / plastics / steel milling the 8 pole was more fitting. For reference a regular 2 pole 80mm spindle has 0.68Nm peak torque at ~18000 rpm.
Inspecting the cheap ATC spindle motor
The spindle arrived a few weeks later and I have to say that I am very impressed! It was very well packed. I have never had anything from aliexpress come in such well prepared and professional packaging. Unpacking it and inspection the spindle itself it seems very well made.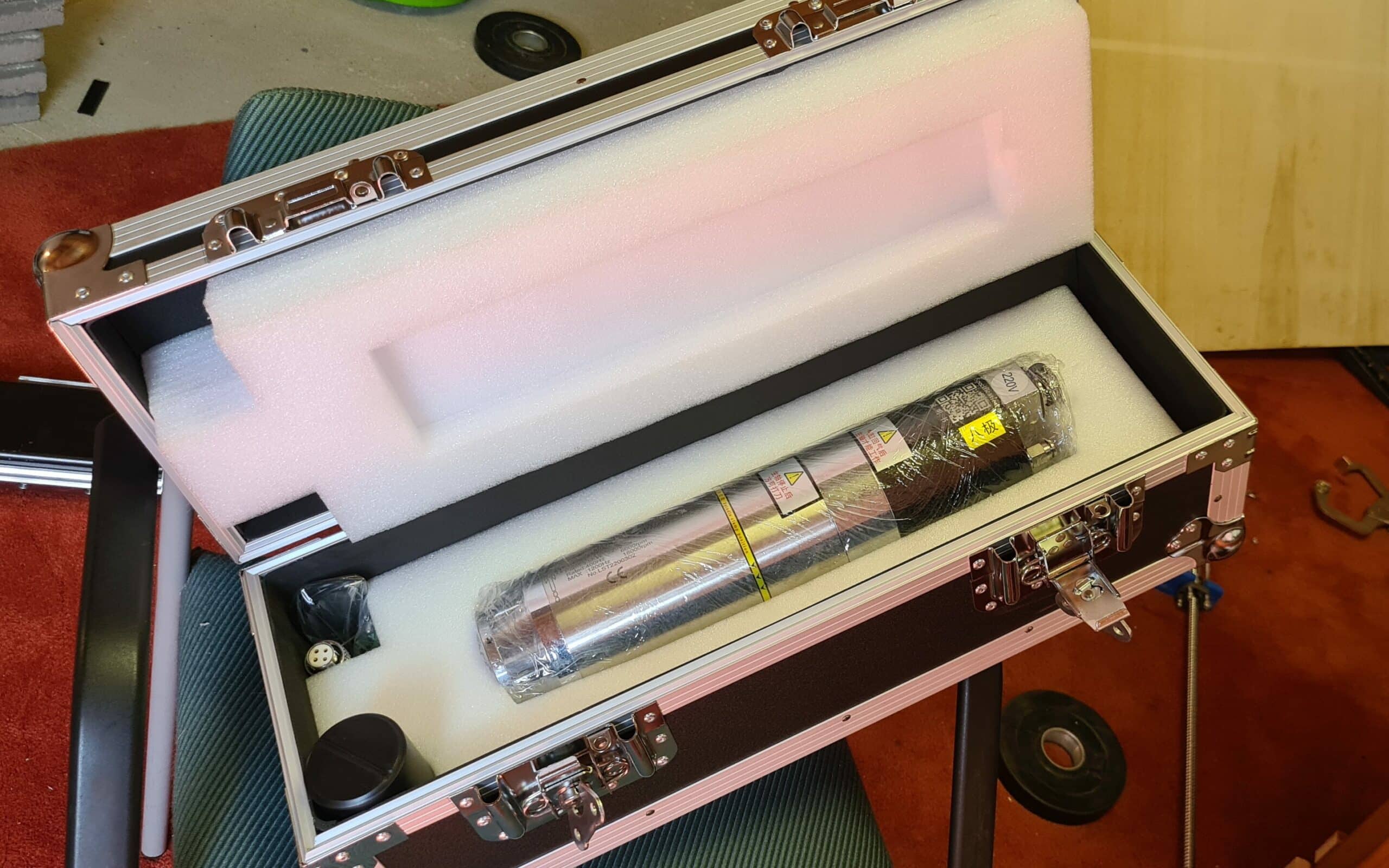 Initial issues
Here it comes …
The VFD was set up directly from the factory so it was plug and play. The issues that I was relating to the NBT30 tool holders that were provided by the sellers. Everytime I ran them above 8000-10000 RPM on my atc spindle I felt and heard serious vibrations coming from the the tool into the machine SHIT!. It was time to investigate.
Runout measurements
To make sure the issue was not related to the spindle having excessive runout I purchased a Mitutoyo 2um dial / test indicator to verify the suppliers specification of <0.001mm runout of the spindle cone.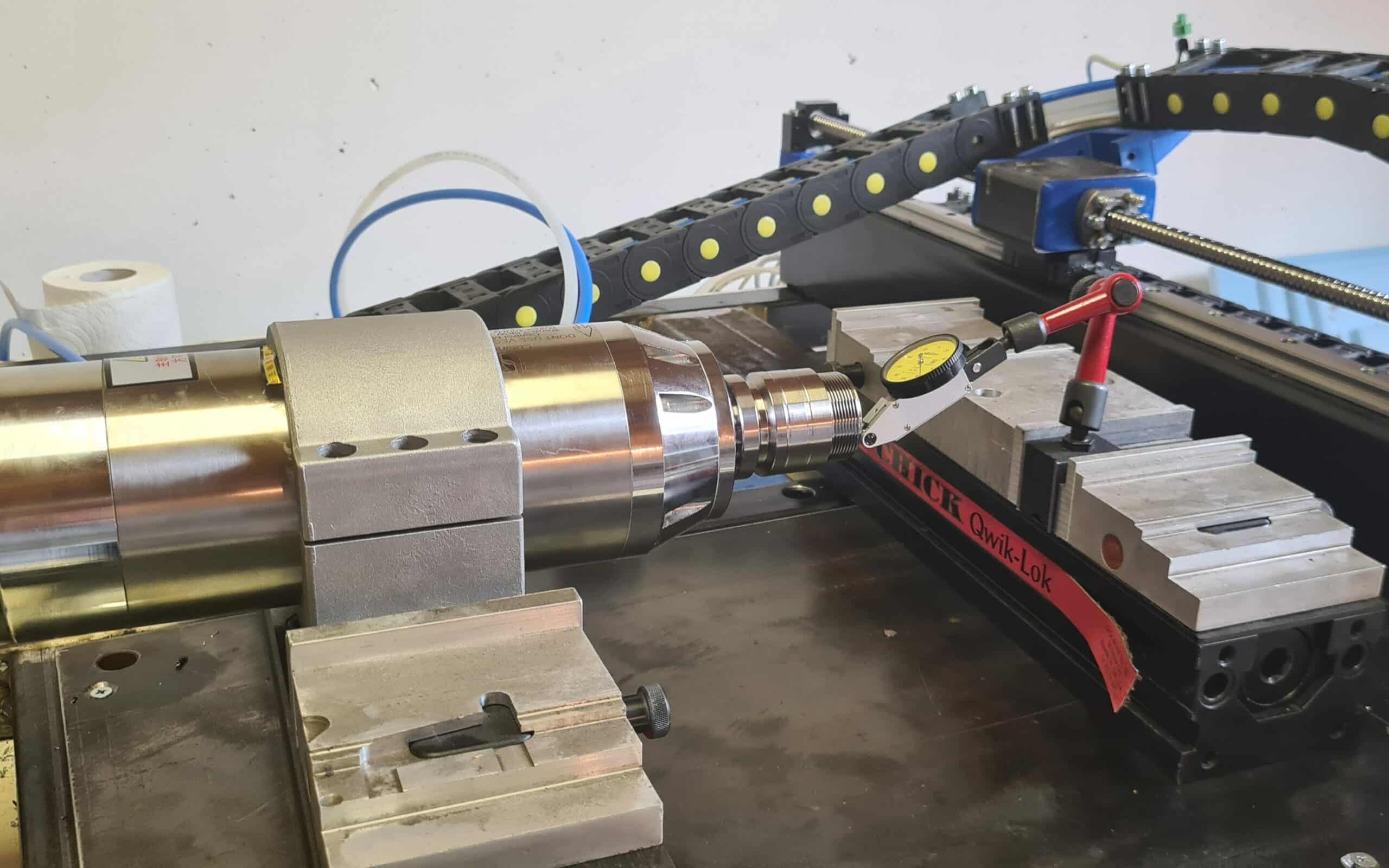 The needle basically did not move. The spindle met the <0.001mm runout specification with ease.
Vibration measurements
After contacting the seller on Aliexpress they assisted me well in measuring and validating that the spindle is not the issue.
In order to measure this properly I needed some extra gear. There comes the SNDWAY handheld SW-65A vibration meter: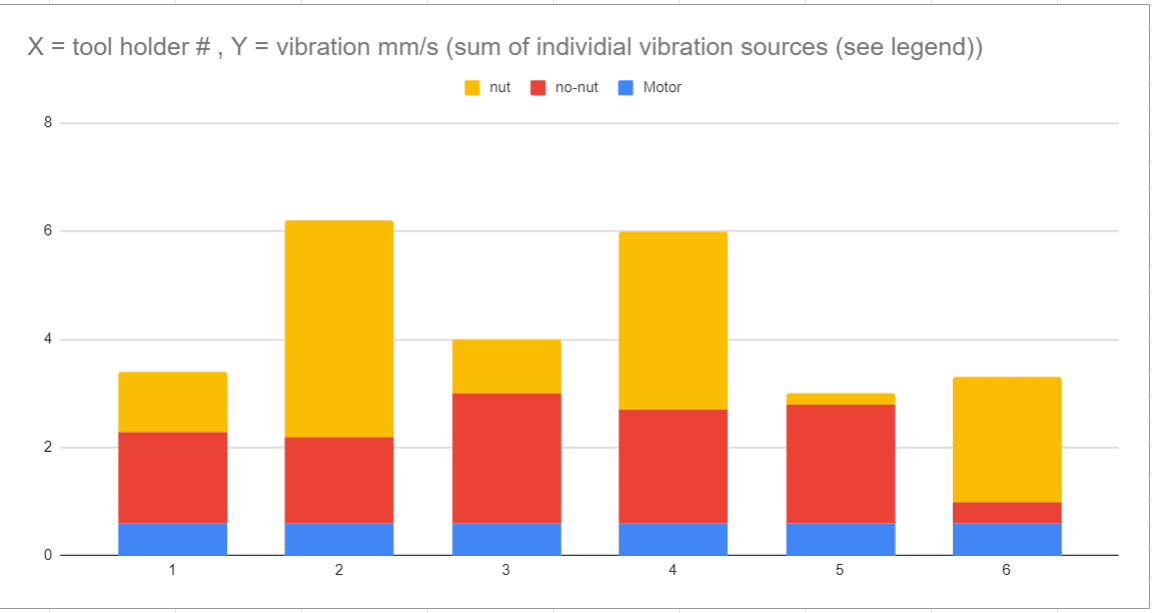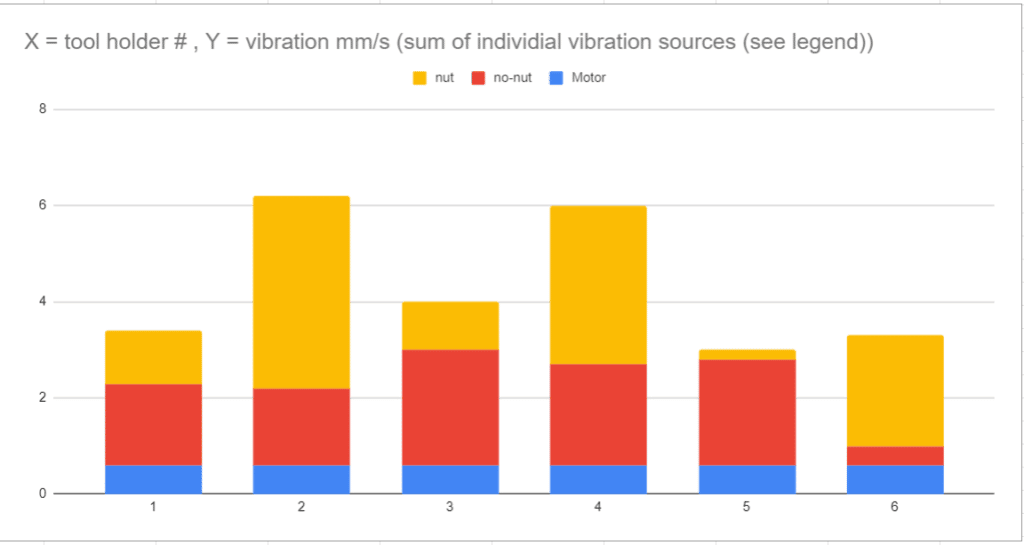 Tool holder vibration range: 0.4-2.4 mm/s – spead = 6x
ER32 nut vibration range: 0.2-4.0 mm/s – spread = 20x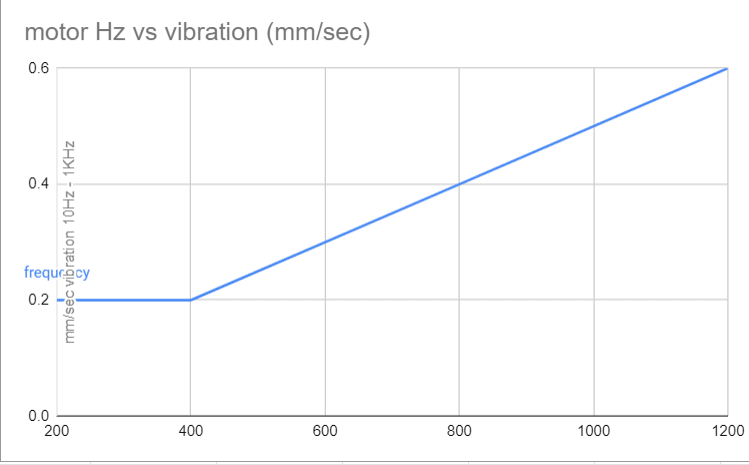 Motor vibration vibration measurement has good results. The motor is good, the holders are the culprit.
Findings
Tools are not very good. Target for a decent cnc setup is <1mm/s of vibration for the whole setup (toolholder + nut + tool).
The ER32 nuts of these tool holders were especially out of spec.
As a result of this the Aliexpress seller gave me a refund for the toolholders and I bought an alternative that worked well for me:
With this holder my vibration measurement was <= 1mm/s so fit for purpose.
Conclusion
Overall I'm happy with the purchase. Despite the initial challenges the spindle is of good quality, runs smoothly has low vibration specification an has plenty of power. The automatic tool change is really easy to use and removes a lot of irritation vs a manual one. During my search of issues the customer service from Lusintun was excellent. They showed me how to measure each aspect to make sure the spindle itself is good. This included videos of the performing the checks and handholding me through the process. Although they themselves had no doubt.
When my new CNC design is up and running I will post an update regarding it. Would definitely recommend having a look at this spindle if you are in the market for it. The price is low … but the specifications are very good. And good customer support.
Who is Lusintun

Lusintun – officially called (Changzhou Luoxingdun CNC Electric Spindle Co., Ltd.) is a manufacturer of various spindles for cnc machines.

Where is Lusintun based

Lusintun is based in Changzhou China

Where did you get the torque information from

I got the information from the seller trough their customer support on Aliexpress

Which VFD do you use?

Initially I had an older version of the VFD that is currently on sale. The new Cumark VFD has vector control which allows the spindle to have good torque at the very low rpm. Down to 200-300rpm with good torque. My old one was just open loop and cant go lover than 1500rpm. I'll be getting a Cumark version soon for testing.
BT30 3.5Kw 8 pole 18000 RPM atc cnc spindle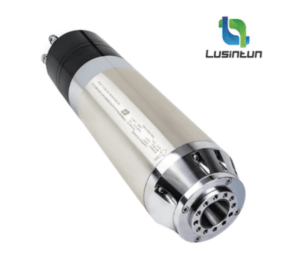 1000$ lusintun Aliexpress ATC CNC spindle , was it a scam, or not?
Product SKU: 3.5KW-8P-220V
Product Brand: Lusintun
Product Currency: USD
Product Price: 999
Price Valid Until: 2023-08-31
Product In-Stock: InStock
Pros
Well packed
Meets specifications
Quick shipping
Good customer service
Cons
Toolholders that I bought from the same store had some issues.